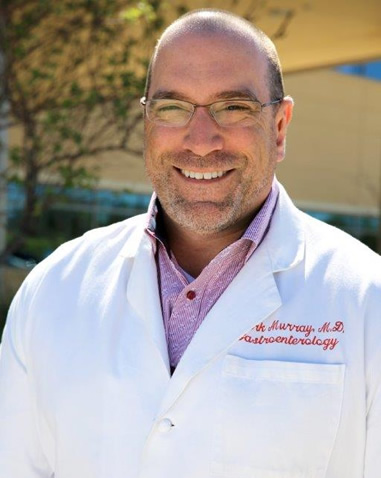 Board Certified, Internal Medicine and Gastroenterology.
My goal is to offer my patients a relaxed environment where they can talk openly and feel comfortable discussing their problems.

I was raised in Lewisville, TX and graduated from Lewisville High School in 1987. After completing college, medical school, residency and fellowship training at a variety of institutions, I returned to Texas in 2004 and began practicing in Northeast Tarrant County. I see a wide variety of gastrointestinal disorders in my practice, including diseases of the liver and pancreas. When I'm not at work, most of my time is spent with my wife and kids at various soccer and baseball fields scattered throughout the Metroplex
Dr. Murray was voted by his peers as a "Top Doctor" in Fort Worth, TX magazine 2010 – Current
OFFICE HOURS:
Dr. Murray provides office hours for both new and existing patients at the following locations and times.
Alliance:
Monday: 8:00 am - 11:30 am
Tuesday: 8:00 am - 11:30 am and 2:00 pm - 4:00 pm
Wednesday: 1:00 pm - 4:30 pm
North Richland Hills:
Thursday: 1:00 pm - 4:30 pm
Friday: Afternoon appointments by special request/necessity only
PROCEDURES
Dr. Murray offers and performs a variety of procedures daily. Locations and times listed below
Alliance:
Monday: 12:00 pm - 3:00 pm
Tuesday: 12:00 pm - 2:00 pm
Wednesday: 8:00 am - 12:00 pm
North Richland Hills:
Thursday: 8:00 am - 12:00 pm
Friday: 8:00 am - 12:00 pm
Azle:
Friday: 12:30 pm - 3:30 pm
DIRECT ACCESS COLONOSCOPY
Dr. Murray also actively promotes and participates in Northeast Tarrant Gastroenterology's Direct Access Colonoscopy program. Please click here to learn more