MAY IS CELIAC DISEASE AWARENESS MONTH
Celiac Disease
Celiac Disease, also known as "Gluten Intolerance" or "Sprue", is a disorder that affects the small bowel of genetically predisposed individuals. In people with Celiac Disease, the ingestion of gluten (a protein found in wheat, rye and barley) triggers an inflammatory reaction within their small intestine which can lead to a wide array of significant health problems. It can occur at any point in a person's life and it is estimated that 1 in 100 people worldwide are affected by Celiac Disease. Furthermore, it is suspected that as many as 2.5 million Americans may be affected, yet, remain undiagnosed. As alluded to previously, there is also a genetic component to Celiac Disease and individuals with a first-degree relative with Celiac Disease have a 10% chance of developing the disorder themselves.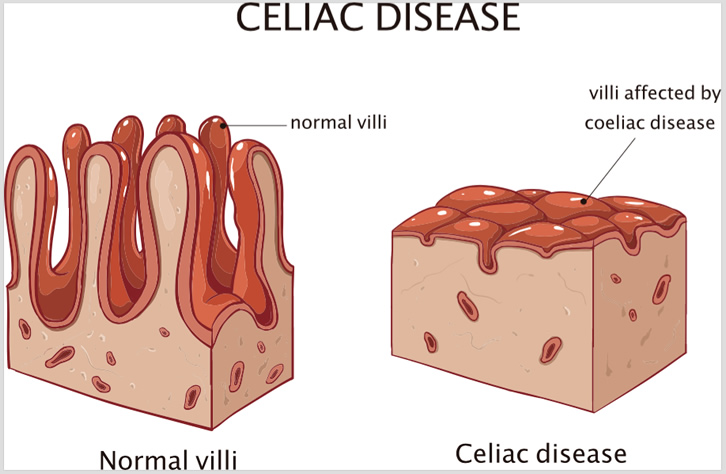 Symptoms:
The manifestations of celiac disease vary widely from person to person and may not always be gastrointestinal in nature. Some of the more common associated symptoms include:
Gastrointestinal:
Altered bowel habits
Nausea
Vomiting
Bloating
Flatulence
Abdominal pain
Poor appetite
Non-Gastrointestinal:
Weight loss
Fatigue
Anemia
Loss of bone density
Vitamin and mineral deficiencies
Skin rash
Joint pain
Headaches
Growth failure
Delayed puberty
Infertility
Nervous system disorders
Risk Factors:
Although Celiac Disease can affect anyone, it is more common in people who have:
A family member with a history of Celiac Disease or Dermatitis Herpetiformis
Type 1 Diabetes
Down Syndrome or Turner Syndrome
Autoimmune Thyroid Disease
Primary Biliary Cirrhosis
Microscopic Colitis (Lymphocytic or Collagenous Colitis)
Addison's Disease
Psoriatic or Rheumatoid Arthritis
Diagnosis and Testing:
Frequently, blood testing is offered as an initial screening measure to help diagnose Celiac Disease. This testing typically involves antibody testing and, occasionally, genetic testing. While laboratory testing is a relatively easy and noninvasive way to screen for potential cases of Celiac Disease, it is important to remember:
1) Positive laboratory tests only suggest the presence of Celiac Disease. They do not confirm it.
2) There is also the potential for false negative test results (i.e. The person in question actually has Celiac Disease, but has tested negative on his/her bloodwork)
Because of this, the only way to definitively diagnose Celiac Disease is through upper endoscopy and small bowel biopsy. During this particular procedure, a small, flexible tube (commonly referred to as an endoscope) is gently advanced through the patient's mouth and into their upper gastrointestinal tract. Once the endoscope has reached the patient's small bowel, a small port in the endoscope allows for the passage of biopsy forceps which are used for tissue sampling. The procedure is typically performed under anesthesia and lasts less than 30 minutes.
NORTHEAST TARRANT GASTROENTEROLOGY ASSOCIATES
As you can see, although Celiac Disease is a fairly prominent condition, it tends to be relatively under-diagnosed. Additionally, due to the potential health implications, it is a serious condition that warrants further attention. If you have any of the signs, symptoms or risk factors listed above, please feel free to schedule an appointment with us to discuss your concerns and schedule further testing. All of our physicians are board-certified in gastroenterology and perform upper endoscopies regularly. We look forward to seeing you!
Schedule Your Appointment Today!
OUR PHYSICIANS
Northeast Tarrant Gastroenterology Associates is comprised of Dr. Mark Murray, Dr. Eric Hill and Dr. Kevin Ho. They are all board-certified gastroenterologists who are also members of Digestive Health Associates of Texas (DHAT). They have two convenient office locations in Northeast Tarrant County (North Richland Hills and Ft. Worth) to serve your gastroenterology needs. They offer specialized services supporting the full spectrum of digestive healthcare, including screening colonoscopy.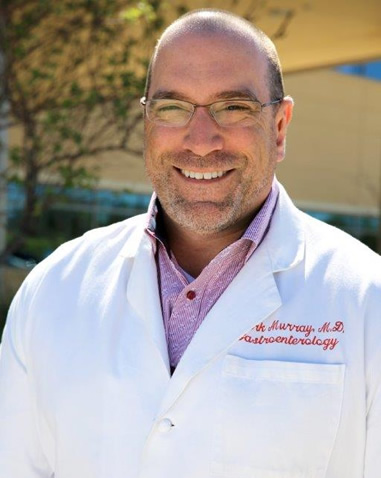 Dr. Mark Murray earned his undergraduate degree at Texas A&M University and his M.D. degree at the University of Texas Health Science Center at Houston. He completed his internal medicine residency training at the University of Arkansas for Medical Sciences. He received his gastroenterology fellowship training at St. Louis University.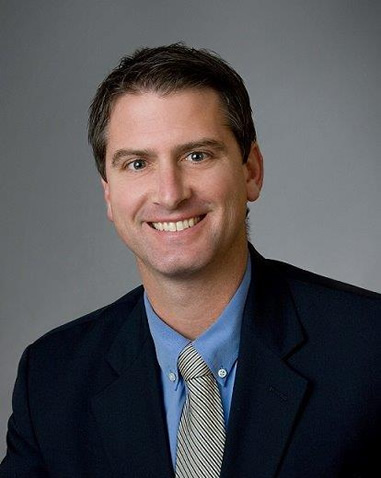 Dr. Eric Hill earned his undergraduate degree at Baylor University and his M.D. degree at the University of Oklahoma. He completed his internal medicine residency training at Vanderbilt University. He received his gastroenterology fellowship training at the University of South Florida.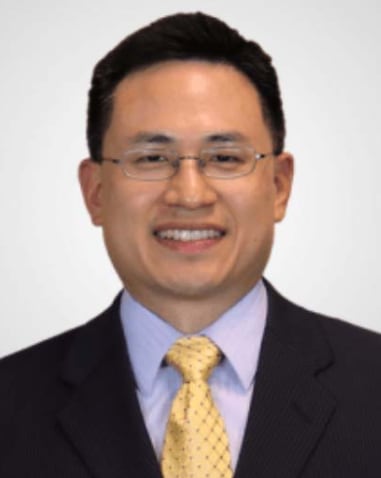 Dr. Kevin Ho He graduated with honors from Cornell University with a degree in mechanical engineering and attended the Indiana University School of Medicine. He trained in internal medicine at BIDMC-Harvard Medical School and in gastroenterology at the Lahey Clinic.